james_peskett@tracker.gg (James Peskett)
Two of Fortnite's biggest stars are up for the PC Player of the Year trophy.
For the last five years, the Esports Awards have celebrated success and achievement in esports by individuals, teams and brands all over the world.
Winners are chosen through the combination of a community vote and the discussion of an expert panel. In the past, the presentation ceremony has been held at the Esports Stadium in Arlington, Texas, but the pandemic could potentially force things online this time around.
What an amazing night, thanks everyone! ???? pic.twitter.com/xytwJGaMnW

— Bugha (@bugha) November 17, 2019
Last year, off the back of his Fortnite World Cup victory, Kyle "Bugha" Giersdorf picked up two awards – PC Rookie of the Year and PC Player of the Year. The latter of which earned the young gamer some undue criticism, with people arguing that Fortnite is not a true esport and concluding that he was not worthy of such a prestigious title.
Well, like it or not, Bugha is back on the list of nominees for the Esports Awards 2020. He and EU fan favorite Benjy "Benjyfishy" David Fish are both on the shortlist for PC Player of the Year.
Up against them are huge names from the world of esports, including Jay "Sinatraa" Won, who's swift transition from Overwatch MVP to championship winning Valorant pro has been nothing short of mind blowing.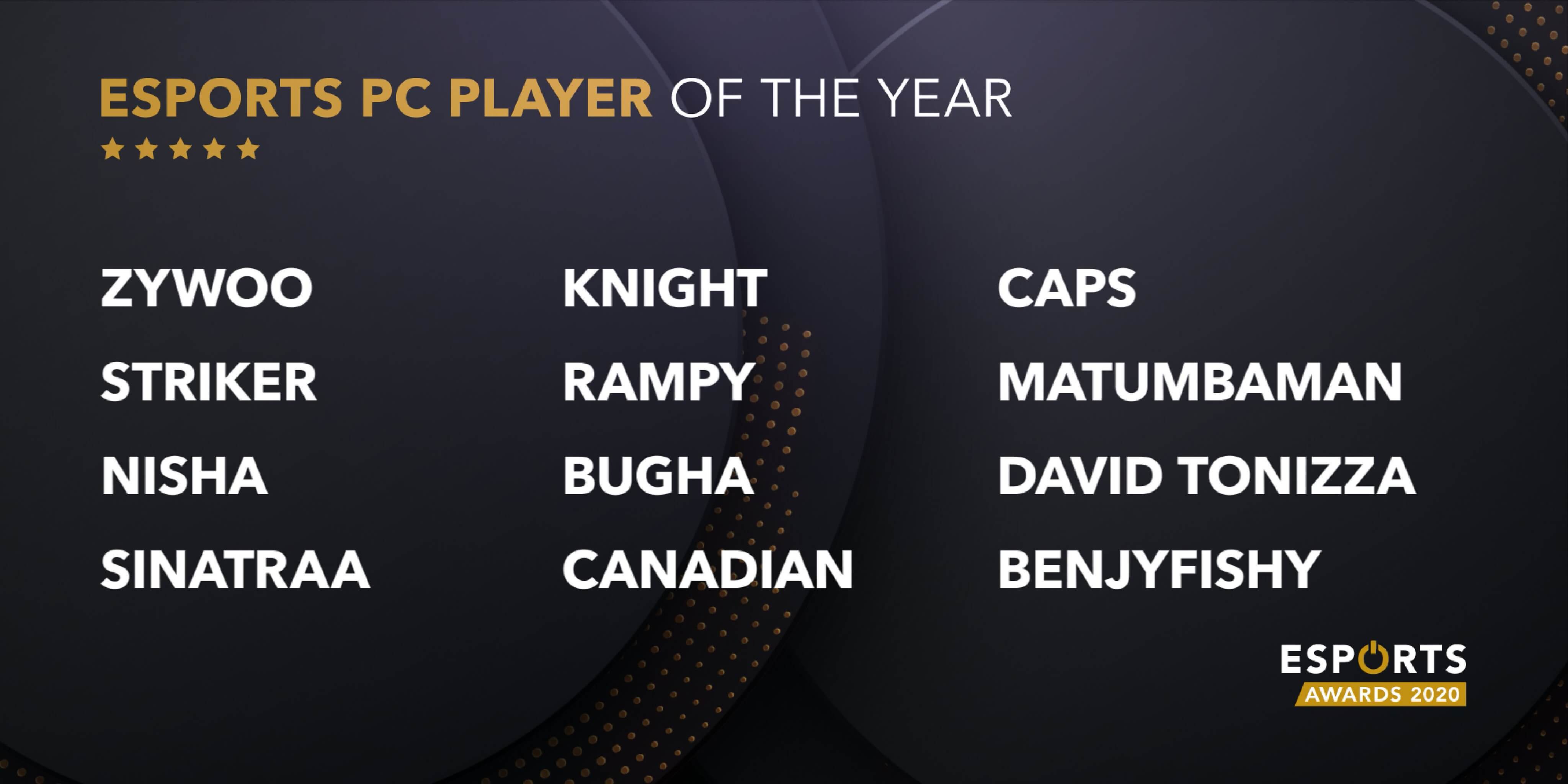 Elsewhere on the line-up, Fortnite itself has been nominated for the Esports Game of the Year award, whilst Epic Games are up for Publisher of the Year. NRG, who this year signed Dominick "Unknown" Green, Cody "Clix" Conrod and Ronaldo "Ronaldo" Mach, and broke ground with their Fortnite content house, are also nominated for Esports Organisation of the Year and Esports Content Team of the Year.
Voting for all categories is now open, so if you want a free way to show your support for Fortnite and its players, get involved. Voting closes November 8.
Source:Fortnite Tracker Feed
---