Beginning tomorrow, you'll be able to hop in with a friend and test your skills every day!
A recent hotfix introduced a new competitive gamemode on top of contender & platform cash cups: Daily Duo Cup. 36 consecutive days of single session duo cash cups will round out the entirety of Duos Fortnite Championship Series. Here's everything you need to know about the recently released gamemode:
Date & Time
The Daily Duo Cup will occur every single day for the next 36 days. No breaks between March 25th and April 30th – not even for the Fortnite Championship Series. You'll be able to dodge the sweats and compete in a more casual friendly tournament on those days
The event is slated between 1-4PM (depending on what time your region relies on). Many players have school for a majority of the tournament's duration which will definitely have an impact on the player population
Tournament Format
In a surprising move, Epic has decided to stray away from the "typical" duos scoring format that we've seen during the World Cup, Duos Cash Cups, and even the most recent iteration of the Fortnite Championship Series. Instead, scoring will be more placement heavy, a move that seasoned veterans alike are cheering on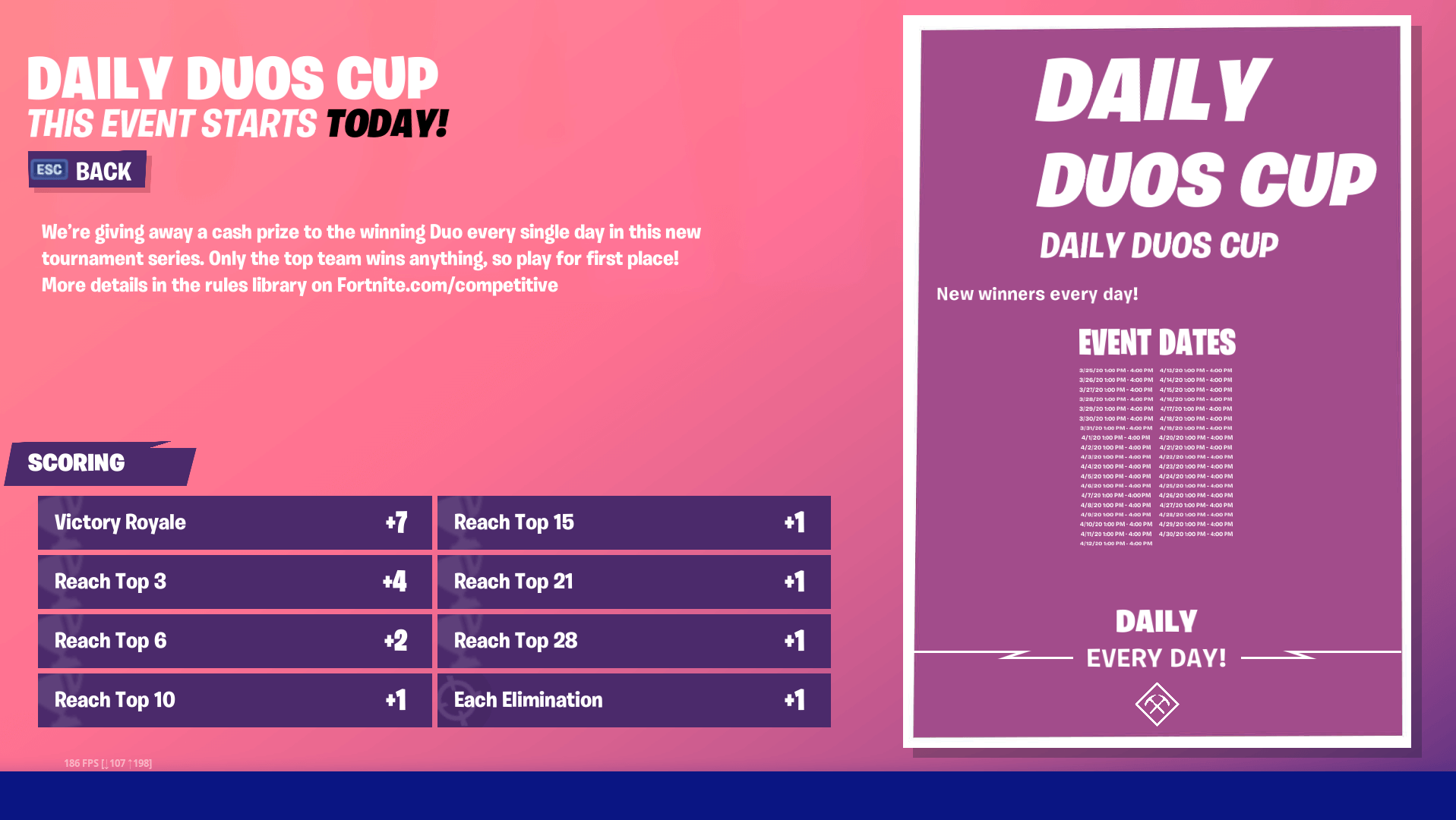 As you can see above, you'll begin receiving placement points way earlier and more consistent with a huge top heavy incentive to get that epic Victory Royale
Prize Pool
Uh… so here's the thing. Only the first place finishers get a prize. Winner takes all. Depending on what region you're on, you'll receive a varying prize pool between $ 500 and a few thousand dollars for 1st, while second and below walks away empty handed. Most of you players out there will be using this tournament as a practicing ground for bigger events – such as FNCS and Cash Cups
Speaking about Cash Cups, they also received a prize pool buff
THEY CHANGED SOLO CASH CUP PRIZE MONEY TO $ 5K FOR FIRST OMG pic.twitter.com/M0uZBtjAYY

— benjyfishy (@benjyfishy) March 24, 2020
It seems that prize pools across all regions for the Wednesday and Thursday night cups are doubled. The prize buff is due to two simultaneous Ghost and Shadow tournaments being combined into one bigger tournament. Check the compete tab in Fortnite's client to see your region's prize allotment
On one hand, I like that tournaments are becoming more frequent and accessible to the broader community. On the other hand, Epic has to realize that their core player base might not be able to participate due to schooling. We could theorize that Epic released a slew of competitions due to the Coronavirus, since kids will now be schooled from an online home environment. That would only be speculation – or an educated guess depending on how you look at it
Regardless, I'm excited to see competition ramping up and we'll keep you updated on any further developments on Twitter!