The Fortnite Champion Series action has concluded for another season. From format issues to broadcast highlights, let's take a look at what we can learn from the past few weeks.
Whilst we still have the second DreamHack Online Open and a couple of Cash Cups to look forward to, this weekend marked the end of the FNCS competition for Season 3. It was certainly fun to watch, but many pros will be glad it's over.
After taking 1st place in his heat, E11 star Tai "TaySon" Starcic did not slow down. The 16-year-old from Slovenia put on a masterclass in Grand Finals, walking away with The Axe of Champions and $ 80,000 in prize money.
It was not such a good day however for some of Europe's biggest names. Martin "MrSavage" Foss Andersen and Benjy "Benjyfishy" David Fish finished 57th and 59th respectively, with their controller wielding Trios partner Kevin "LeTsHe" Fedjuschkin further back in 69th.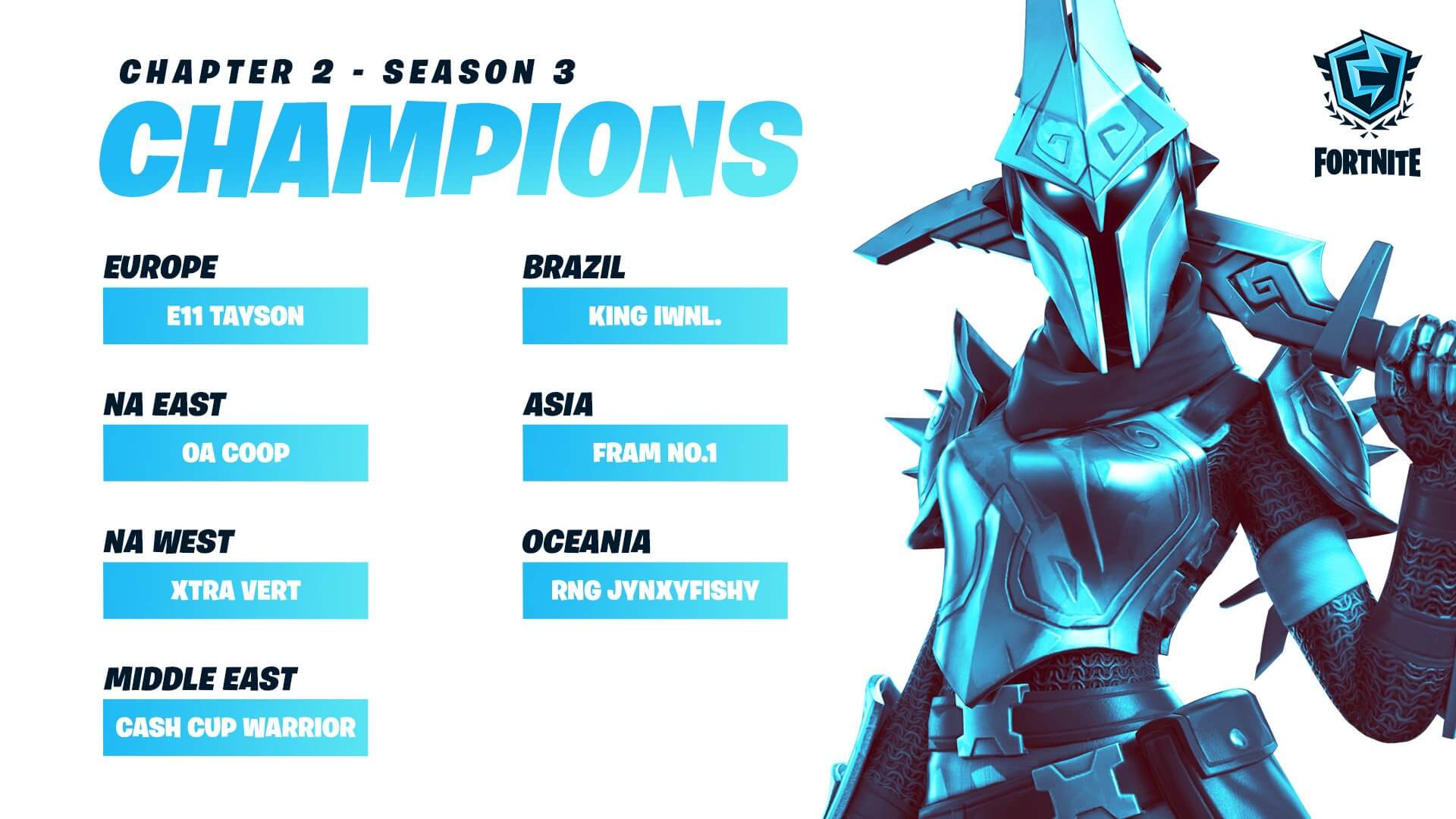 Across the Atlantic, it was a similar story. DreamHack Solos winner Josef "Stretch" ended in the 91st spot following a frustrating run of early deaths. Things went even worse for TSM's Leon "Khanada" Khim, who could only find 4 points resulting in a disappointing 96th place finish.
At the other end of the leaderboard though, newly formed org Optimal Ambition got their first major victory as "Coop" popped off and took the NAE crown. Coop was consistently dominant throughout finals, proving that he has the elite game sense to match his undeniable skill on the sticks.
Following Season 2's FNCS Invitational, many players were less than pleased to hear that more Solos awaited them in Season 3. The mode is controversial in the competitive community for a number of reasons, predominantly the inherent increased RNG that comes with solo gameplay.
With effectively 100 different teams on the map, it takes just one person to make an illogical, or perhaps emotional decision to ruin your game completely. Even if you win the engagement, a bad fight can leave you low on utility, health and materials, with a much harder rotation than planned.
man it fucking sucks that if someone wants to grief you in solos there is basically nothing you can do

— benjyfishy (@benjyfishy) August 16, 2020
The Season 3 loot pool further added to the struggle. Mythic items like Kit's Shockwave Launcher and Jules' Glider Gun made holding height an impossible task for anyone with a standard loadout, whilst Crash Pad exploits meant no box was ever safe.
Let's have a moment of silence for everyone who got griefed by Marauders or a flying Shark.
Game mode based qualms aside, this season's FNCS used a brand-new format, totally unique from anything we've seen before. The placement heavy scoring system worked really well in open qualifiers and Semi-Finals, but elimination points could have been worth a little more in Finals, Heats and Grand Finals.
However, the decision to run the four qualifiers over two weekends rather than four though was not so impressive. Sitting through back to back 9-hour days of competitive Fortnite is not healthy or fun for anyone, and certainly does not promote high level performance. Whilst it's true that players could have adjusted their sleeping schedules, the comparatively early starts were also not at all popular.
Working with @claystehling & @ShyoWager is the best. #FNCS pic.twitter.com/Z8BVswhC70

— Zeke (@ZekimusPrime) August 16, 2020
Finishing on a positive note, it was fantastic to have the official broadcast back. Sure, it can be annoying to watch with all the lag, and this is something that desperately needs to be fixed if Epic want to pull in new viewers, but aside from that they did a great job.
It was good to see them experimenting with different pairings of casters, each of whom had instant chemistry and brought their own distinct flavor to the show. The return of the post-game analysis segment was well executed, and of course host Zeke kept everything running smooth as butter.
Overall, another Season of competitive Fortnite filled with excitement, frustration, rage and joy. What else could we expect? Trios, over to you…
Check out the full standings for each region here.