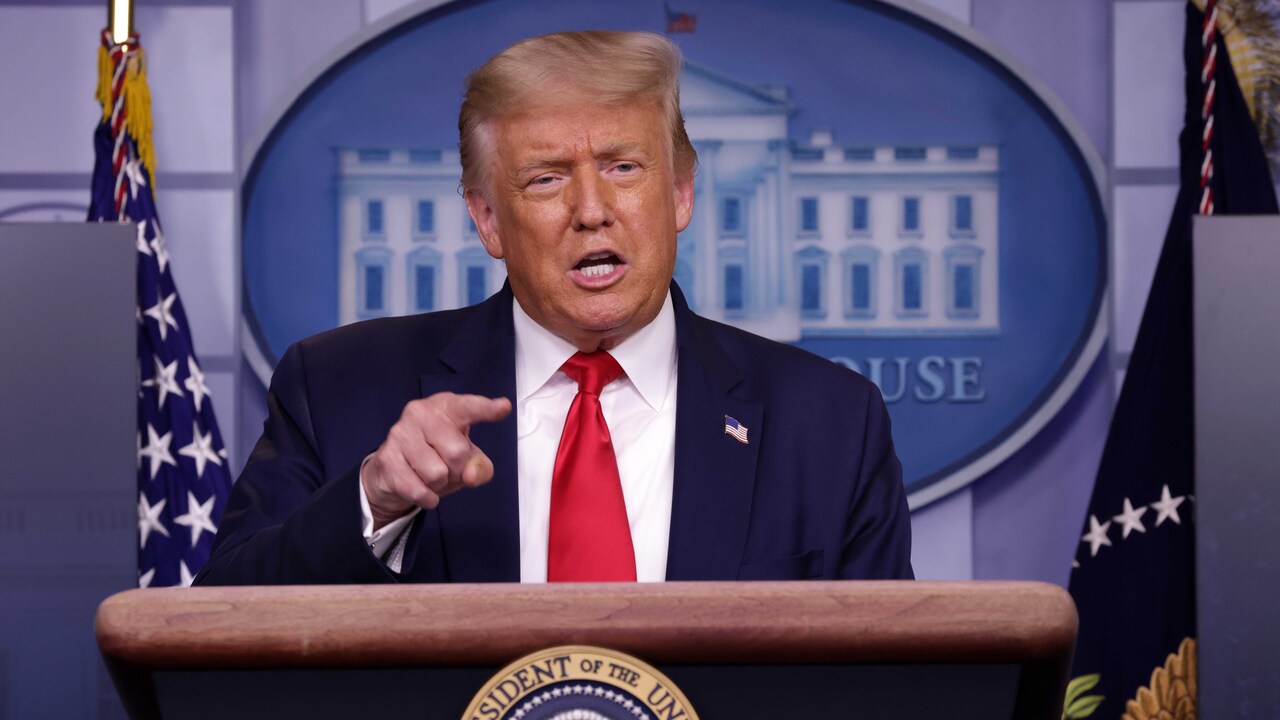 As a result, White House aides started urging the president to resume a coronavirus focus, talking more about issues like vaccine development and promising therapeutics instead of boasting about the economy with millions of Americans out of work.
The White House brought back frequent briefings so the president could directly address the American people and give scripted updates on government action on Covid-19. And it revamped the communications team around the pandemic, bringing in State Department spokeswoman Morgan Ortagus.
Indeed, Trump's first briefing after the long hiatus was seen inside the White House as a success. The briefing led to a spate of coverage about how Trump was seeking to convey a different, more realistic attitude about the coronavirus.
Yet the tone started wavering within a day of his return to the White House podium in the press briefing room.
At his second briefing, the president claimed, without evidence, that the southern border wall was helping keep the coronavirus out of the U.S. and took jabs at both former President Barack Obama and presumptive Democratic presidential nominee Joe Biden. On Twitter, he accused both of them of spying on his campaign.
"So Obama and his team of lowlifes spied on my campaign, and got caught – Open and shut case!" Trump tweeted on Friday. "Will they ever pay the price? The political Crime of the Century!"
But Trump hadn't yet returned to some of his favorite talking points from the early months of the pandemic. First, that his critics were trying to suppress hydroxychloroquine as a Covid-19 drug for political reasons. And second, that governors should swiftly reopen their economies.
Then, on Monday, Trump resurrected both issues.
During a trip to North Carolina, Trump said, "A lot of the governors should be opening up states that they're not opening." And Monday night, the president began trumpeting flawed studies and comments about hydroxychloroquine, which he once took as a prophylactic, on Twitter. Tuesday, he defended his choice.
"I think it works in the early stages. I think front-line medical people believe that, too. Some. Many. So we'll take a look at it," Trump said, without offering specifics. "It doesn't cause problems. I had no problem. I had absolutely no problem."
To Trump's backers, though, these outbursts are only damaging if they're coming every single day.
"For two straight months he was almost daily going off script," said the person close to the White House. "No one is saying he has to be someone that he's not. It just means he can't be generating daily negative headlines like last few months."
Critics have long argued that the Food and Drug Administration authorized emergency use of hydroxychloroquine in March on thin and questionable data. The agency ultimately revoked those authorities in June after a series of rigorous clinical trials showed no benefit from the drug in treating severely ill Covid-19 patients. Later research suggested it does not help mildly ill people either.
Another study published this week in the New England Journal of Medicine found that hydroxychloroquine, taken alone or with azithromycin, did not appear to affect any patients with Covid-19 after taking one of the treatments for 15 days.
The president's promotion of the drug comes as drug companies Moderna and Pfizer kicked off late stage vaccine trials with the hope that results might be available as soon as November.
But while the controversial statements have continued,Trump has still made nods to the worsening nature of the pandemic. The president canceled plans for a large Republican National Convention in Jacksonville, Fla., citing safety concerns. And on Monday, he wore a mask while on his trip to North Carolina. At the podium, he asked Americans to adopt the same behaviors he only recently started displaying himself.
"I ask all Americans, regardless of background or age, to practice social distancing, which people have gotten very used to, but we have to keep doing it — remain vigilant about hygiene," Trump said. "Wear a mask whenever appropriate."
Sarah Owermohle contributed to this report.