Jackie Spiegel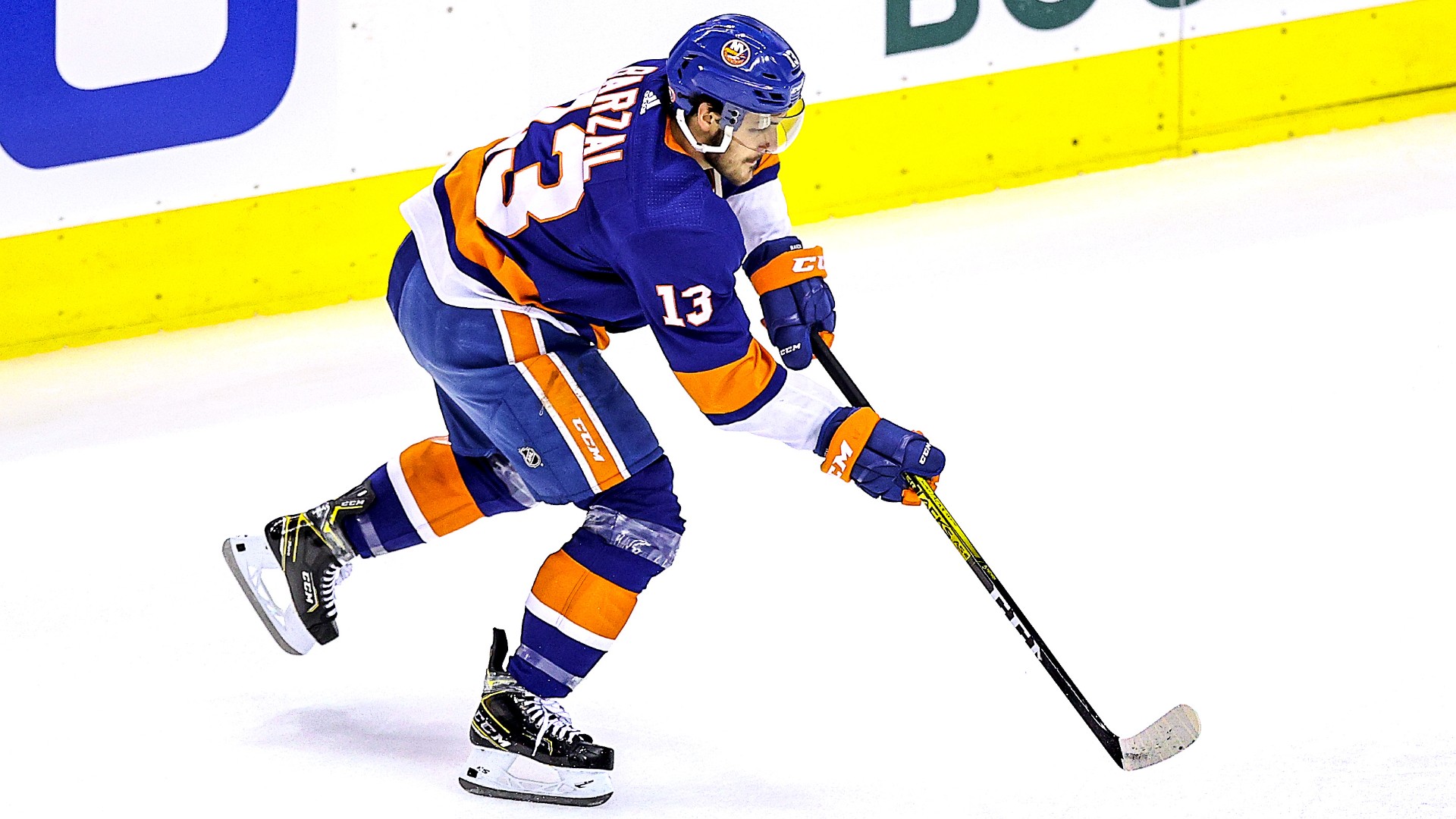 While the Islanders may have lost Games 5 and 6 of their second-round series, they buckled down and shut out the Flyers in Game 7 for the franchise's first trip to the Eastern Conference finals since 1993.
Head coach Barry Trotz said during morning availability Saturday that there would be lineup changes, and he did, in fact, swap netminders. Thomas Greiss, who last started in Game 3 (and won), got the nod over Semyon Varlamov and posted a 4-0 victory in the deciding game.
"Whoever's in the net, we know they'll do the job," J-G Pageau said earlier Saturday. "But we've got to do the job in front of them, too."
And they did just that. 
Defensemen Scott Mayfield and Andy Greene opened the scoring in the first and Brock Nelson scored in the second past Carter Hart.
Philadelphia was held to 16 shots on net — seven in the third period when it needed three to tie. Once again, the Flyers' power play faltered, going 0 for 2 Saturday to finish 0 for 13 in the series. The Flyers also posted 18 giveaway and had 22 shots blocked.
The Islanders advanced to the final four for the first time since 1993; they got there that year by winning the Patrick Division finals (equivalent to today's second round) in a Game 7 against the two-time defending Stanley Cup champion Penguins. Members of that Islanders team include TSN analyst Ray Ferraro and Canucks head coach Travis Green.
Philadelphia entered the playoffs as the No. 1 seed in the East and was 9-1-0 in the last 10 games before the coronavirus pause. The Flyers went 41-21-7 for the regular season under first-year head coach Alain Vigneault.
They received a good-vibes boost in Game 6 as Oskar Lindblom played for the first time since being diagnosed with cancer in December. He played more than 17 minutes in his return and 16:42 in Game 7.
New York now heads to Edmonton to take on the Lightning in the Eastern Conference finals, which will begin Monday.
Sporting News had all the action as the Islanders and Flyers faced off in a winner-take-all game.
Islanders vs. Flyers score, highlights from Game 7
(All times Eastern.)
Final score: Islanders 4, Flyers 0
Third period: Islanders 4, Flyers 0
9:58 p.m. — Islanders win.
9:53 p.m. — Too many men for the Flyers. Isles thisclose to their first Eastern Conference final in 27 years.
9:48 p.m. — GOAL. Anthony Beauviliier empty-netter. Islanders lead 4-0.
9:47 p.m. — Hart is pulled with 6:55 left on the clock and the Flyers come close as Thomas Greiss lays out for a high-danger save.
9:38 p.m. — Flyers get a power play but they don't score.
9:31 p.m. — Pageau and Laughton drop the gloves.
9:27 p.m. — Flyers' lines are in a blender. Hayes, Giroux and Voracek now teaming up.
9:25 p.m. — Third period begins. The last regulation period in the Toronto bubble.
Second period: Islanders 3, Flyers 0
9:05 p.m. — Period ends. Flyers need to find some oomph if they want to get back into this game.
9:00 p.m. — Lindblom moves up and he makes a great pass to Kevin Hayes, who gets stoned by Greiss.
8:59 p.m. — Five minutes left in the second period and the Flyers have eight shots. Eight. And they trail 3-0.
8:52 p.m. — GOAL. Flyers steal the puck from Claude Giroux and it leads to a 2-on-1. It's Josh Bailey to Nelson at the other end for the easy goal. Islanders lead 3-0.
8:42 p.m. — Anthony Beauvillier knocks the puck out of mid-air from the left circle and it pings off the post.
Interesting first eight minutes of the middle period, as Isles hit one post, miss an empty net, have two PPs and Hart makes at least two stops with no idea where the puck was. Yet Philly hanging in, still only down two.

— Lance Hornby (@sunhornby) September 6, 2020
8:38 p.m. — Now it's Mat Barzal who's hurt. It looks like he took an errant stick from teammate Jordan Eberle right to the nose.
It's been a tough couple of days for the youngster; he also took a stick under his visor in Game 5.
Then he had a shot go off the crossbar and knock his helmet off in warmups for Game 7. (Side note: This is why you should always wear your helmet, even in warmups!)
8:35 p.m. — Ivan Provorov takes a shot right off the left kneecap and is down in a lot of pain. He does get up and skates off on his own power, but it did not look great for a second.
8:34 p.m. — Flyers called for too many men and hand the Islanders their third power play of the night.
8:32 p.m. — Flyers hit the pipe.
8:30 p.m. — Second period underway and the Isles start on the power play (but they don't score).
First period: Islanders 2, Flyers 0
8:13 p.m. — Horn sounds. Isles will start the second on the power play.
8:10 p.m. —  Isles don't score on that man advantage but get another chance as Voracek gets a minor with 53.4 seconds left in the period.
8:04 p.m. — Flyers take a penalty. Things are unraveling for the team a tad.
8:00 p.m. — GOAL.  Isles buzzing and Derick Brassard goes across the seam to Andy Greene for the goal into the empty net. Carter Hart was screened on the pass and couldn't get across in time. Islanders lead 2-0.
7:56 p.m. — Islanders getting scoring from everyone as Mayfield is the 16th player to score in the postseason.
7:52 p.m. — GOAL. Defenseman Scott Mayfield is allowed to glide down from the right point and fires the wrister top corner past the blocker of Carter Hart. Pinpoint shot for Mayfield's first career playoff goal. Islanders lead 1-0.
7:47 p.m. — J-G Pageau gets two for holding. Quick reminder: Flyers' power play has not been good — at all. (They didn't score.)
7:45 p.m. — Flyers come close on a tip-in off a pass from Jakub Voracek.
7:41 p.m. — Four minutes in and each team has one shot.
7:39 p.m. — Flyers come close.
7:35 p.m. — Game on.
Pregame
7:35 p.m. — Derek Grant also out of the lineup for the Flyers.
7:05 p.m. — Other lineup notes.
7 p.m. ET — Greiss is a go.
Source:Sporting News RSS