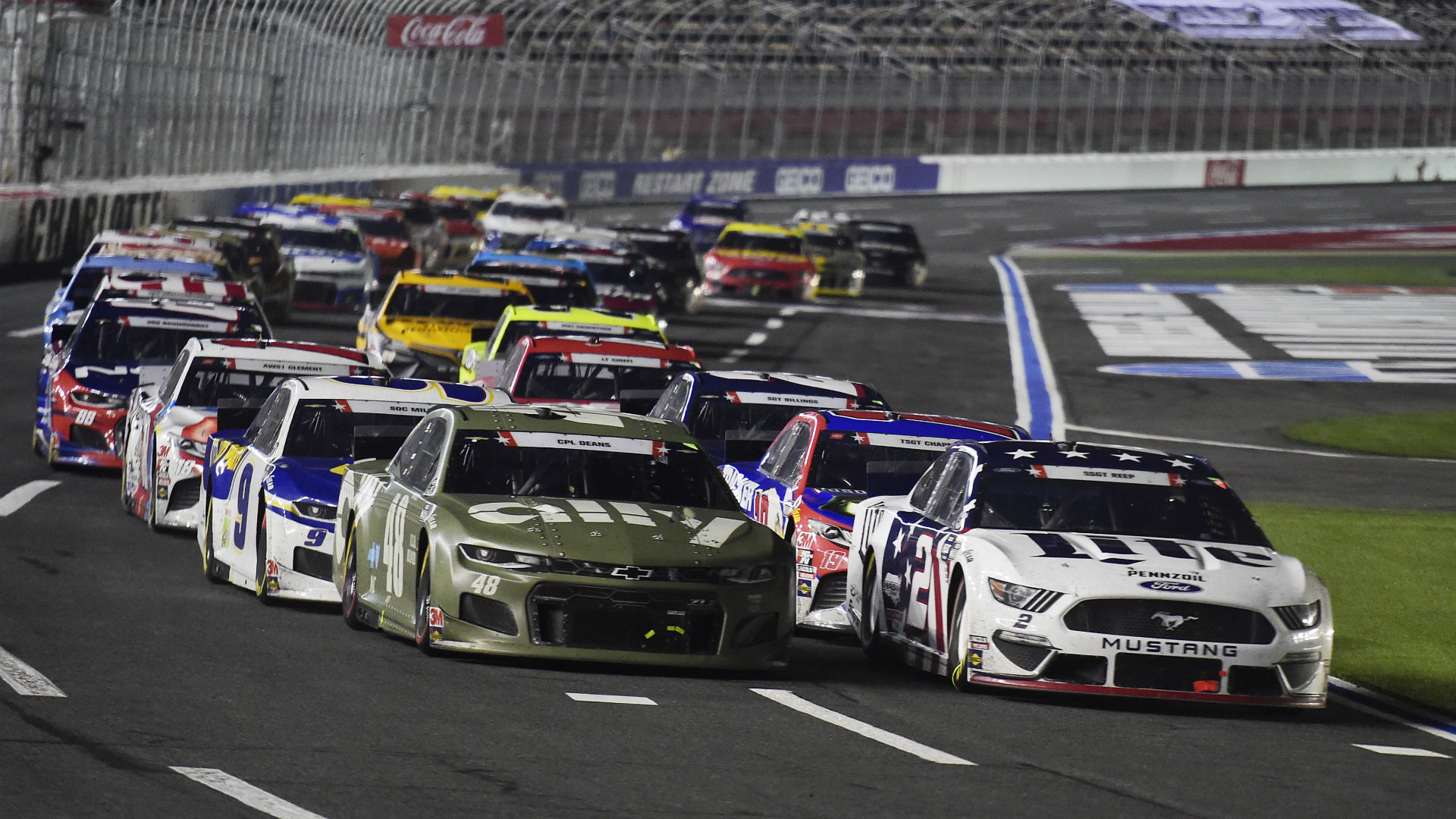 The biggest obstacle for Thursday night's Alsco Uniforms 500 at Charlotte Motor Speedway might be rain.
After a 68-minute delay Sunday night, Wednesday night's race was postponed to Thursday night and the forecast still could come into play. For now, it looks as if rain will stay east of the track. Assuming everything starts smoothly, William Byron and Alex Bowman will line up on the front row. 
The Alsco 500 will be the fourth of five Cup Series races in a two-week stretch due to a compact schedule amid the coronavirus pandemic. Chase Elliott suffered his second consecutive heartbreaking loss  Sunday when a late caution cost him. He was able to redeem himself with a win in the Truck Series on Tuesday, but he is still looking for his first victory of the 2020 Cup Series season. 
Sporting News is tracking live updates and lap-by-lap highlights from Thursday's NASCAR race at Charlotte. Follow along below for complete results from the Alsco Uniforms 500.
MORE: Watch tonight's NASCAR race live with fuboTV (7-day free trial)
NASCAR at Charlotte live updates, highlights from Alsco Uniforms 500
9:09 p.m. — Engines are re-fired.
9:04 p.m. — Engines starting soon. 
Engines at 9:07 ET

— Bob Pockrass (@bobpockrass) May 29, 2020
8:58 p.m. — Looking at a 9:15 restart time. 
UPDATE: the lightning hold has been lifted, and the track at @CLTMotorSpdwy is close to being dry.

Drivers have been instructed to head back to their cars.

— NASCAR (@NASCAR) May 29, 2020
8:30 p.m. — LaJoie, from his trailer during the rain delay, shares his side of what happened earlier on pit road. 
I was fully committed to my box (expecting Willy to take 4) when I saw his jack drop and start to John Force it. It's impossible stop a 3500lb car going 45mph in 20 feet. Hopefully we both can recover when we get back going. https://t.co/VXIvrh1uNe

— Corey LaJoie (@CoreyLaJoie) May 29, 2020
8:16 p.m. —  Looks like the severe weather veered east of Charlotte Motor Speedway. 
8:12 p.m. —  Could be back soon. 
8:02 p.m.  —  Some optimistic thinking. 
7:52 p.m.  —  Now a red flag for lighting. Minimum 30 minute delay. 
7:52 p.m.  —  Another caution. This time for Matt Kenseth. 
7:49 p.m.  —  Back to green on Lap 25. Logano in the lead. 
7:48 p.m.  —  Lot of drivers went to pit road, including Byron, who made contact with Corey LaJoie trying to exit pit road. 
7:44 p.m.  —  Competition caution for Lap 20 is out. 
7:36 p.m.  —  Back to action on Lap 10. William Byron, the pole sitter, in the lead. 
7:30 p.m.  —  Looks like some potential weather could be approaching the track. 
7:26 p.m. —  Before things can even really get started, there's a caution on Lap 1. Garrett Smithley catches fire. 
What time does the NASCAR race start today?
Race:  Alsco Uniforms 500 at Charlotte Motor Speedway
Date:  Thursday, May 28

 

Start time:  7 p.m. ET (scheduled start); 7:25 p.m. ET green flag
Thursday's NASCAR race at Charlotte is scheduled to start at 7 p.m. ET following Wednesday's postponement . FS1's coverage of the Alsco Uniforms 500 is scheduled to begin at 6 p.m. ET, and the green flag is scheduled to wave at 7:25 p.m. ET.
More rain is predicted for the Charlotte area Thursday, so another delay is possible. The Coca-Cola 600 on Sunday had a 68-minute red flag because of a passing rain shower but was able to finish.
The only other night race currently on NASCAR's modified schedule is the midweek Martinsville race on Wednesday, June 10.
NASCAR starting lineup at Charlotte
Below is the complete starting lineup for Thursday night's NASCAR Cup Series race at Charlotte Motor Speedway. The top 20 spots are an inversion of the top 20 finishers from Sunday's race, and the bottom 20 spots are simply the bottom 20 finishers from Sunday's race, with the exception of Jimmie Johnson.
One note: Josh Bilicki and J.J. Yeley are driver changes from Sunday's Coca-Cola 600, so they will drop to the back of the pack before the start of Thursday night's race.
| | |
| --- | --- |
| Pos. | Driver |
| 1 | William Byron |
| 2 | Alex Bowman |
| 3 | Michael McDowell |
| 4 | Matt DiBenedetto |
| 5 | John Hunter Nemechek |
| 6 | Aric Almirola |
| 7 | Austin Dillon |
| 8 | Joey Logano |
| 9 | Cole Custer |
| 10 | Erik Jones |
| 11 | Chris Buescher |
| 12 | Christopher Bell |
| 13 | Tyler Reddick |
| 14 | Kurt Busch |
| 15 | Martin Truex Jr. |
| 16 | Kevin Harvick |
| 17 | Kyle Busch |
| 18 | Ryan Blaney |
| 19 | Chase Elliott |
| 20 | Brad Keselowski |
| 21 | J.J. Yeley |
| 22 | Ryan Preece |
| 23 | Corey LaJoie |
| 24 | Ricky Stenhouse Jr. |
| 25 | Ty Dillon |
| 26 | Matt Kenseth |
| 27 | Ryan Newman |
| 28 | Daniel Suarez |
| 29 | Denny Hamlin |
| 30 | Brennan Poole |
| 31 | Gray Gaulding |
| 32 | BJ McLeod |
| 33 | Garrett Smithley |
| 34 | Timmy Hill |
| 35 | Quin Houff |
| 36 | Joey Gase |
| 37 | Josh Bilicki |
| 38 | Bubba Wallace |
| 39 | Clint Bowyer |
| 40 | Jimmie Johnson |