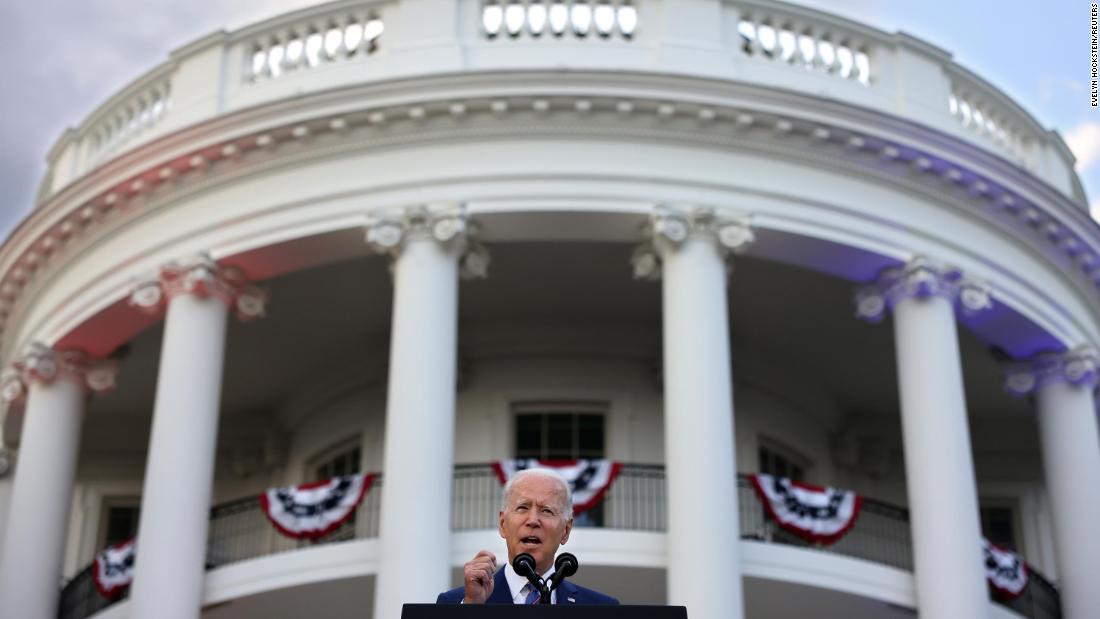 From vaccination rates to voting rights, from immigration policy to racial equity, blue and red states are hurtling in antithetical directions at staggering speed, even amid President Joe Biden's persistent calls for greater national unity and his attempts to
foster more bipartisan agreement
in Washington. Across all of these issues, and more, Republican-controlled states are pursuing policies that amount to a wholesale effort to counter Biden's direction at the national level — even as they look to block some of his key initiatives with lawsuits.
In some ways, the red state recoil from Biden's agenda echoes the "resistance" that exploded in Democratic-controlled states to Donald Trump's tumultuous presidency; in other ways, today's actions in red states may constitute even greater evidence of the country pulling apart. Especially striking is that, as during last year's lockdowns and mask mandates, the separation between red and blue America is occurring not only at the level of government policy, but also in individual behavior, with
all studies showing
Republicans are being vaccinated against the coronavirus at a much lower rate than Democrats.
Taken together, these centrifugal pressures call into question not only the ability of any president to unify the nation, but also his or her ability even to chart a common course for more than roughly half of the country — either red or blue America. This divergence, across a wide range of issues and personal choices, is rooted in the continuing political re-sorting that has divided the parties more sharply than ever along demographic and geographic lines and produced
two political coalitions holding inimical views
on the fundamental social and economic changes remaking America. And that destabilizing process shows no signs of slowing, much less reversing, even after Trump — who fomented division as a central component of his political strategy — has left the White House.
"This is the long arc of history," says Lynn Vavreck, a political scientist at UCLA and one of the founders of the
NationScape polling project
studying American attitudes. "There are these moments that exacerbate things, like Trump running for that nomination in 2016: If he hadn't run, the sorting would probably be taking a little longer. But it was always marching in that direction. You try to just ask yourself what stops it, or what reverses it, or what slows it? … I can't come up with a good answer to that question."
"To the extent we see differences between 2016 and 2020 we are talking about very marginal ones," says Tufts University political scientist Brian Schaffner, a co-director of the Cooperative Election Study.
"I don't think we are going to see an election anymore where a president wins with 52 or 53% of the vote and then has a 62% approval rating," says Republican pollster Glen Bolger.
While some analysts have asserted that political polarization is driven primarily by leaders like Trump who encourage it, Abramowitz argues that today it is grounded in a much more intractable dynamic: As the electorate has sorted between the parties on lines of race, education, generation, religion and geography, the rank and file of each coalition now holds more ideologically consistent views on the core questions facing America — and those views are more consistently hostile to the perspective on the other side.
In an upcoming paper he shared with CNN, Abramowitz notes that long-term survey data shows that compared with the 1970s, voters in each party now hold much more negative views of the other party and its presidential nominee. That hostility, he argues, is rooted in these fundamentally clashing worldviews.
This year's sharp turn to the right in red states has provided immediate evidence to support that prediction. Red states have erupted in what looks like a spasm of resistance to the left-leaning tilt in national policy that Democrats are executing through their unified control of Washington.
"This is definitely red states saying we want the kind of restrictive policies that Biden is dismantling," says Doris Meissner, a senior fellow at the Migration Policy Institute and former commissioner of the US Immigration and Naturalization Service for President Bill Clinton.
The researchers, Samore said, found that rejection of those safety precautions was linked most closely with distrust of scientists, distrust of the mainstream media (and lack of exposure to it) and attitudes of economic conservatism (which may have translated into greater priority on reopening the economy than combating the virus). All of those, of course, are attitudes now common in the modern Republican coalition.
"What we think is going on here is a clash between people's inclinations … and their political beliefs about trusting science or exposure to different media sources," says Samore.
Fessler says these tendencies are reinforced by the social and political sorting that has diminished Americans' exposure to neighbors of contrasting political views.
"You might be a liberal 20-something, and you might feel not particularly threatened, but if everyone around is saying, 'I got vaxxed,' you can get tipping point effects" that encourage you to do so as well, he says; the opposite, he adds, works in reducing appetite for the vaccine among conservatives.
Fessler says these diverging attitudes on the value of vaccines, despite all the evidence of their effectiveness and safety, encapsulates a much larger problem: the development of information "niches" that allow falsehoods to take root for a large audience. The key "challenge facing democracies in the 21st century," he argues, is that "while the internet promised the democratization of knowledge — the idea anyone can learn anything, and the connection of people regardless of geography and personal characteristics — instead the perverse result has been that it's possible to occupy one's own little niche in the information environment."
Because "there are lots of other people occupying that" same space, he adds, no matter how implausible the ideas being presented in those circles, "our evolved psychology tells us this must be reality because everyone I am interacting with thinks the way that I do."
Divergent information flows are not the only reason that red and blue America are pulling apart; the preference for contrasting information sources, in fact, may be more symptom than cause of the underlying demographic, generational and geographic separation of the parties. Taken together, all of these factors produced an Independence Day weekend when foundational questions of American unity and commitment to democracy seemed more fraught than at any time since the Civil War.
Author: Analysis by Ronald Brownstein
Read more here >>> CNN.com – RSS Channel – HP Hero