james_peskett@tracker.gg (James Peskett)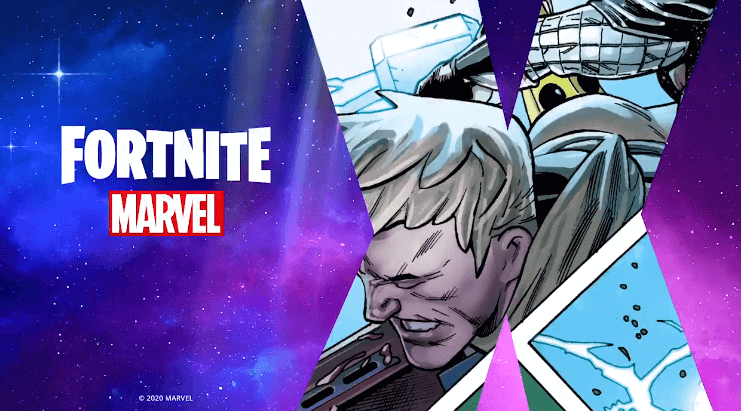 A crater containing Thor's legendary hammer is now visible on the Fortnite Battle Royale island.
With just a few days to go until the launch of Season 4 on August 27, things are really starting to heat up.
A combination of teaser images, comic book pages and in-game events have Fortnite fans crafting all kinds of crazy theories about what is coming.
The following comic books were just added! #Fortnite pic.twitter.com/LI4GeyyHV3

— Mikey – Fortnite Leaks (@FNBRHQ) August 24, 2020
Epic have been regularly adding new pages to the comic book found in the in-game Battle Pass menu. The most recent of which show Thor fighting with a selection of Fortnite characters (including punching poor Peely in the face), before dropping his famous hammer "Mjolnir", crushing the ground below.
This has also been reflected on the map itself. A small crater with Thor's hammer in the centre has appeared in the area between Salty Springs and Flopper Pond.
As of now, players are unable to interact with the hammer. Some people predict that it will later become a mythic weapon. This wouldn't be the first time we got to wield the power of Thor, last year his Stormbreaker axe was available in the Endgame LTM.
pic.twitter.com/nMMEfviGxz

— spedicey1 (@spedicey1) August 24, 2020
It is very possible that the land around this crater will become a new POI in Season 4. Fortnite leaker @HYPEX has already indicated that a Marvel/Thor themed location could be on the way, and this part of the map has plenty of open space.
The teaser images being uploaded to social media appear to be spelling out a word. So far we have the letters N-E-X. The final two teasers are expected to arrive at similar times on Tuesday and Wednesday, finishing the word NEXUS. This is defined as "an important connection between the parts of a system or a group of things".
This is certainly shaping up to be an exciting season, with an old school Fortnite level of focus on the storyline.