Fortnite OG "Thwifo" has announced that he will be stepping away from the game in order to focus on Riot Games' new shooter, Valorant.
Fans of competitive Fortnite have been hearing the name of Zander "Thwifo" Kim during almost every tournament since summer 2018. He is also credited for the creation of one of the earliest high ground retake techniques, the "thwifo cone", which is still used effectively by top tier pros today.
After a disappointing spell during World Cup qualifiers, Thwifo went on to make Grand Finals in both Trios and Squads FNCS. In January 2020, he parted ways with long term partner Ghost Gaming, and recently had a tough time in FNCS Duos, failing to get past heats.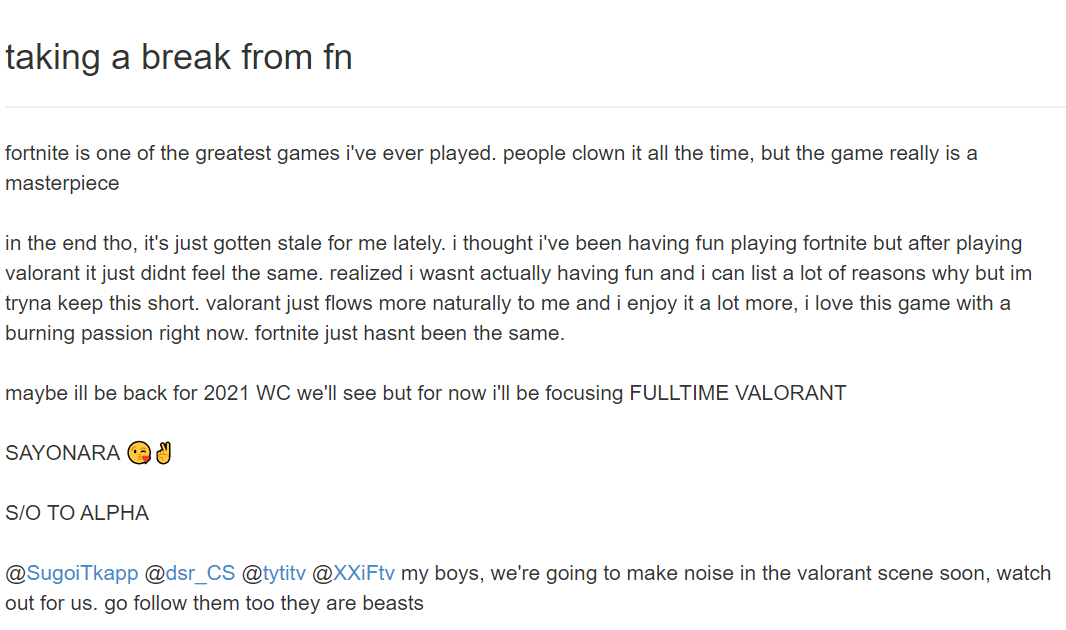 Breaking the news via a TwitLonger post, Thwifo confirmed that he will be taking a break from Fortnite. "Fortnite is one of the greatest games I've ever played" stated Thwifo, "People clown it all the time, but the game really is a masterpiece".
He went on to explain that lately, the Battle Royale has been feeling "stale", and that he has been having a lot of fun playing Valorant. With that said, Thwifo will now be turning his attention both in terms of competition and content creation to Riot's upcoming character-based shooter, which is set to release June 2.
At the end of his statement, Thwifo did add, "Maybe I'll be back for 2021 WC (World Cup) we'll see". So, a potential return to Fortnite is on the cards much further down the line, but for now we wish him all the best with his switch to Valorant.
If you are also interested in Valorant, check out our new Valorant Tracker app here and follow us on Twitter @ValorantTracker to stay up to date with all the latest news.