Undoubtedly the most consistent duo in Fortnite history, Zayt and Saf were finally crowned champions following a textbook performance in the FNCS Grand Finals.
You'll struggle to find a duo as 'OG' as Williams "Zayt" Aubin and Rocco "Saf" Morales in the competitive Fortnite scene. The pair have been playing together since the very first tournaments, originally partnering up for the Summer Skirmish back in summer 2018.
Since then they have remained at the top. Never wavering, never splitting up after a disappointing result, they always knew they were the best. As a matter of fact, there haven't been many disappointing results, it's rare to find any event where they placed outside of the top 10.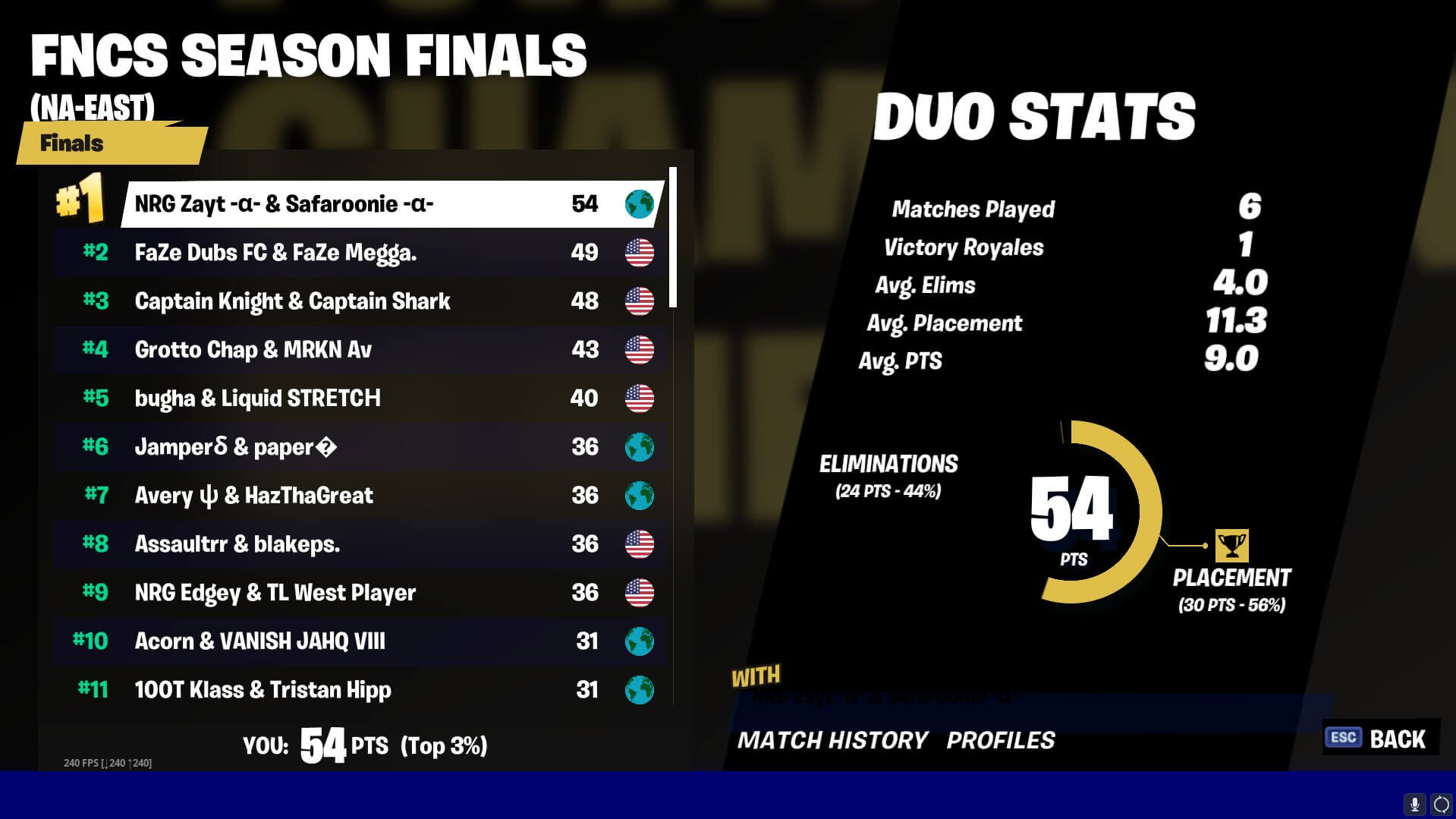 However, it's that 1st place finish that has alluded them for so long. Sure, they've won a bunch of weekly qualifiers and heats, but when it comes to the big day, Grand Finals, they come up just short. The 4th place curse has been looming large for the last year, with Zayt and Saf taking the 4th spot at the World Cup Duos Finals, FNCS Trios Finals and FNCS Squads Finals.
Well, now, after two years of grinding, the curse has been broken and their legacy is cemented. In what seemed like a perfectly executed game plan, Zayt and Saf sat around the 5th/6th place mark on the leaderboard throughout the Duos Grand Finals. Then, in the last match of the tournament, they popped off.
Like lions ready to pounce, they leapt from their midground safety and took height above the lobby. From this vantage point, they put their strong knowledge of Fortnite's fundamentals to work. Detecting and pressuring any risks, picking up crucial eliminations and confidently securing the win that would bring them FNCS glory.
Known for being players that keep their strategies secret and refuse to stream any of their practice, it's almost like this was the plan all along. Sit just outside of the top few teams, whilst remaining close enough to overtake. This let all of the focus fall on to the likes of Dubs, Megga, Bugha and Stretch, and then out of nowhere, they show their winning hand.
We all knew they were special, but this victory solidifies it. Celebrating on Twitter, NRG star Zayt was quick to point out that his duo is still a Free Agent, following his parting of ways with Ghost Gaming. Saf is openly looking for a new org to represent, and surely there will be some offers coming his way after this performance.