Partnered Fortnite creators received an email from Epic Games outlining the near-future changes
Fortnite received a ton of heat after abruptly halting a long running tradition of posting weekly patch notes for the community to digest. Many core community members would stay up until 4:00AM (EST) just to get a taste of what changes are being made to their beloved game. For the duration of Chapter 2, however, this luxury was stripped
Today Epic Games made an interesting move by releasing a condensed version of what could be considered "future patch notes." Even more interestingly is the fact that they only sent an email to Support-A-Creator verified influencers. The email hit my inbox a few hours ago; here is what that says:
Hi hindog,
We know part of your content involves introducing your audience to what's new in the game. In an effort to help you more effectively do that, we'd like to share some information about this update. Some highlights and notes:
Party Royale. All chill, no sweat.
Party Royale is a new experimental and evolving space. Leave your weapons and mats behind. We plan to run some tests here this Friday @ 9pm EST. These are subject to change, but feel free to come by and check it out.
The party's just getting started.
Operation: Payload
A new spy mode debuts in this build. Use your current spy tech, as well as new tech in this release, to defend/escort the payload against the other team which tries to stop you — then switch sides. The mode takes you to different parts of the island, check it out and have fun. We'd also like any feedback you have on the spy tech this season and the progression system.
Heavy Sniper Damage
Ghost Agents have tampered with Heavy Snipers to retune their effectiveness.
Adjusting Aim Assist
This build includes an AA change which makes 240hz AA act like 60hz AA, which does impact target acquisition. Investigations and tests are ongoing regarding aim assist, and your feedback is appreciated.
See you on the Island!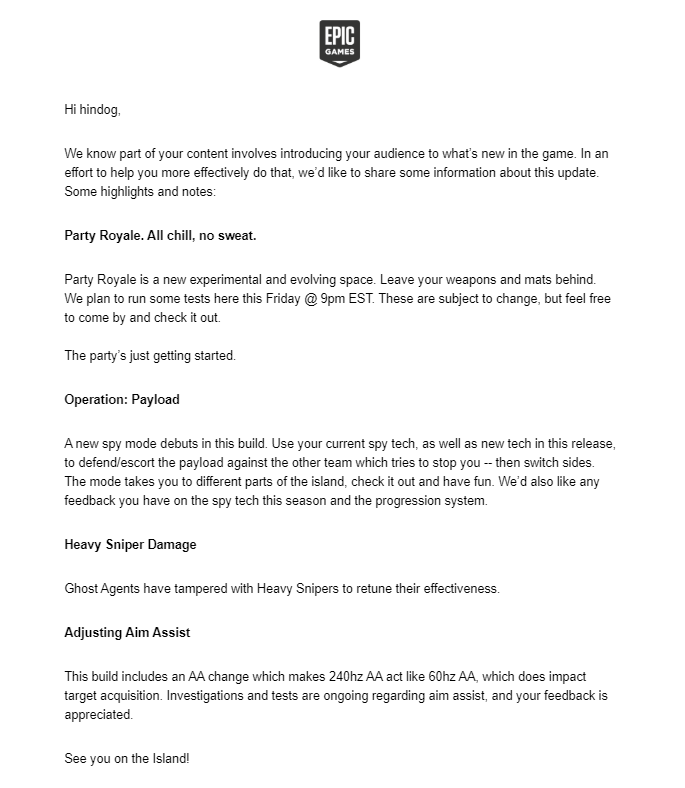 For the first time in what feels like a century, we're getting some concrete communication from Epic developers. Now to the content, which I'm sure is going to stir up just a little bit of controversy:
Heavy sniper nerf
Heavy snipers were considered massively OP since they were introduced back in Chapter 1. If you find yourself at 150 hp, a body shot with this gun is lethal. Additionally, "heavy sniping walls" is an absolutely sick phenomenon since the sniper can 1 shot any building material
Heavy Sniper Has Been Nerfed To Do 127 Damage Now! ?#Fortnite #Fortniteleaks #FortniteChapter2 #FortniteNews #FortLeaks #FortniteBattleRoyale #FortniteBR #FortniteClips #FortniteArt pic.twitter.com/YMyQ2TSth3

— ??MattFortLeaks?? (@MattFortLeaks) April 29, 2020
General consensus: great to hear. Heavy snipers do too much damage in combination with its ease of use. Low bullet velocity/drop made hitting your shots easy as cake; now it seems to be in a much healthier place
Aim assist nerf
So… this one will make half the community jump for joy while leaving the other half stranded. Keyboard players will now have zero excuses when they die to a controller player. Every controller player will have the same aim assist strength as Epic nerfs high refresh rate monitors down to the same strength as 60hz displays
Do you think these changes are good for Fortnite? Let us know on Twitter
---