Cash Cups are commonly referred to as the staple of Fortnite's competitive scene. Today, the tournament gets a necessary update
Weekly cash cups were introduced during the latter half of 2019, running alongside the Fortnite Championship Series (squad iteration). With the new event structure lasting entire seasons, a weekly "casual" tournament is a necessity to keep middling players around and satisfied
Today saw a huge update to Fortnite's weekly cash cups. It was inevitable that new tournaments would be scheduled as the previous cash cup schedule had just expired. But in this case, Epic decided to make a few drastic changes to spice things up
Two stage ladder
When you first load into the compete tab, you'll notice something a little different. There are now two stages to each cash cup!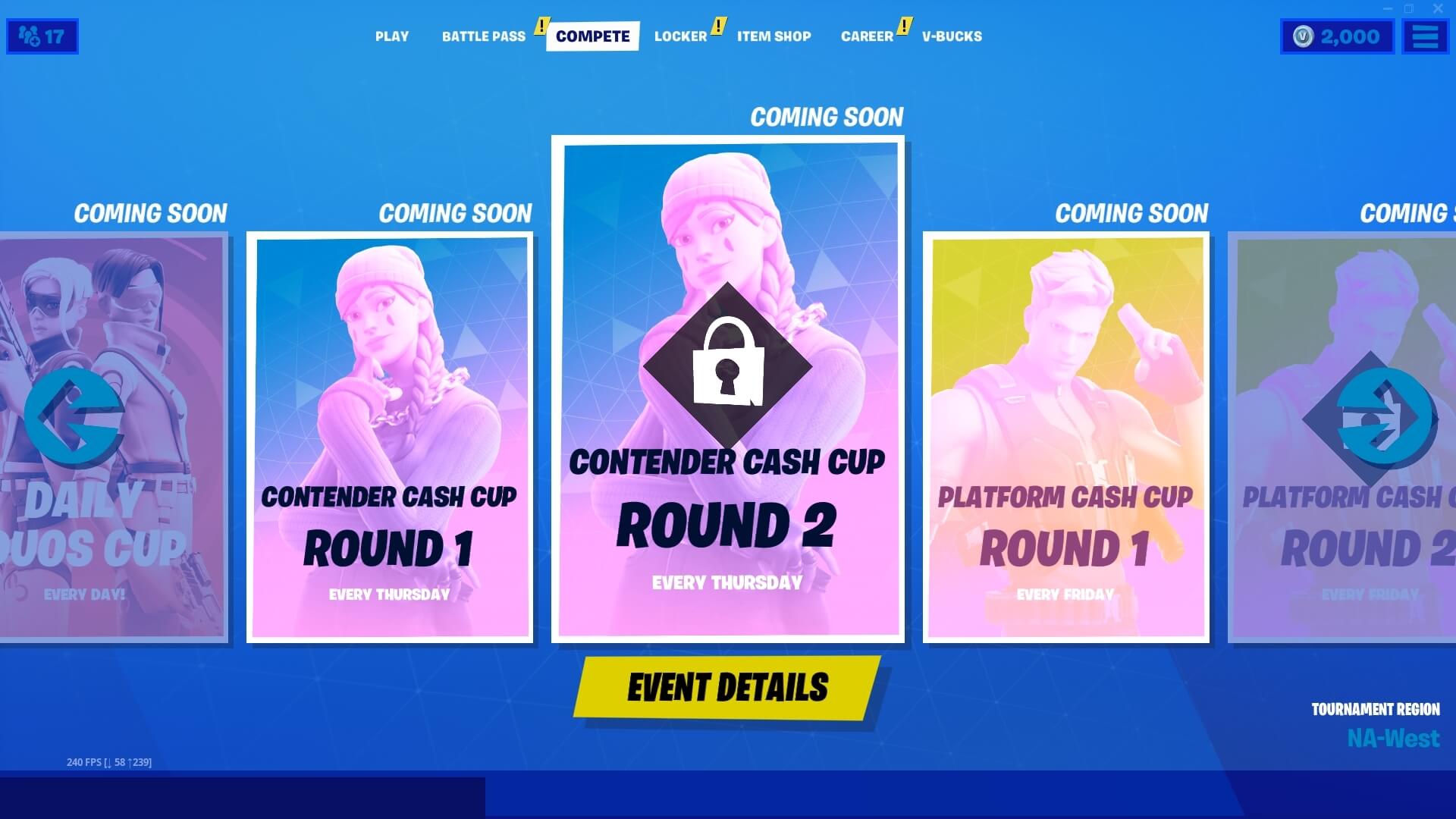 All cash cups will now have a "qualifying round" that will get you into custom lobbies. For the duos cup, you will need to place within the top 200 if you want to make round two. Qualifying for solos is even harder as there's only 100 spots for grabs – a true custom lobby (similar to FNCS heats/grand finals)
Altered date & time
The duos and solo cash cups were previously hosted on Wednesdays and Thursdays respectively. For the next few weeks, both cups will shift a day later to Thursday and Friday. round 1 will start at 5PM (local time) for both events and end by midnight. That is if you qualify for the second round which is 1 hour after round 1 ends. Keep in mind that round 1 for duos is only two hours long while solos is the full three hours
New point scoring format
After previously pushing for a scoring format similar to Dreamhack, it seems as though Epic has finally caved to popular demand. Instead of top 25/15/5/Win placement thresholds, points are much more spread out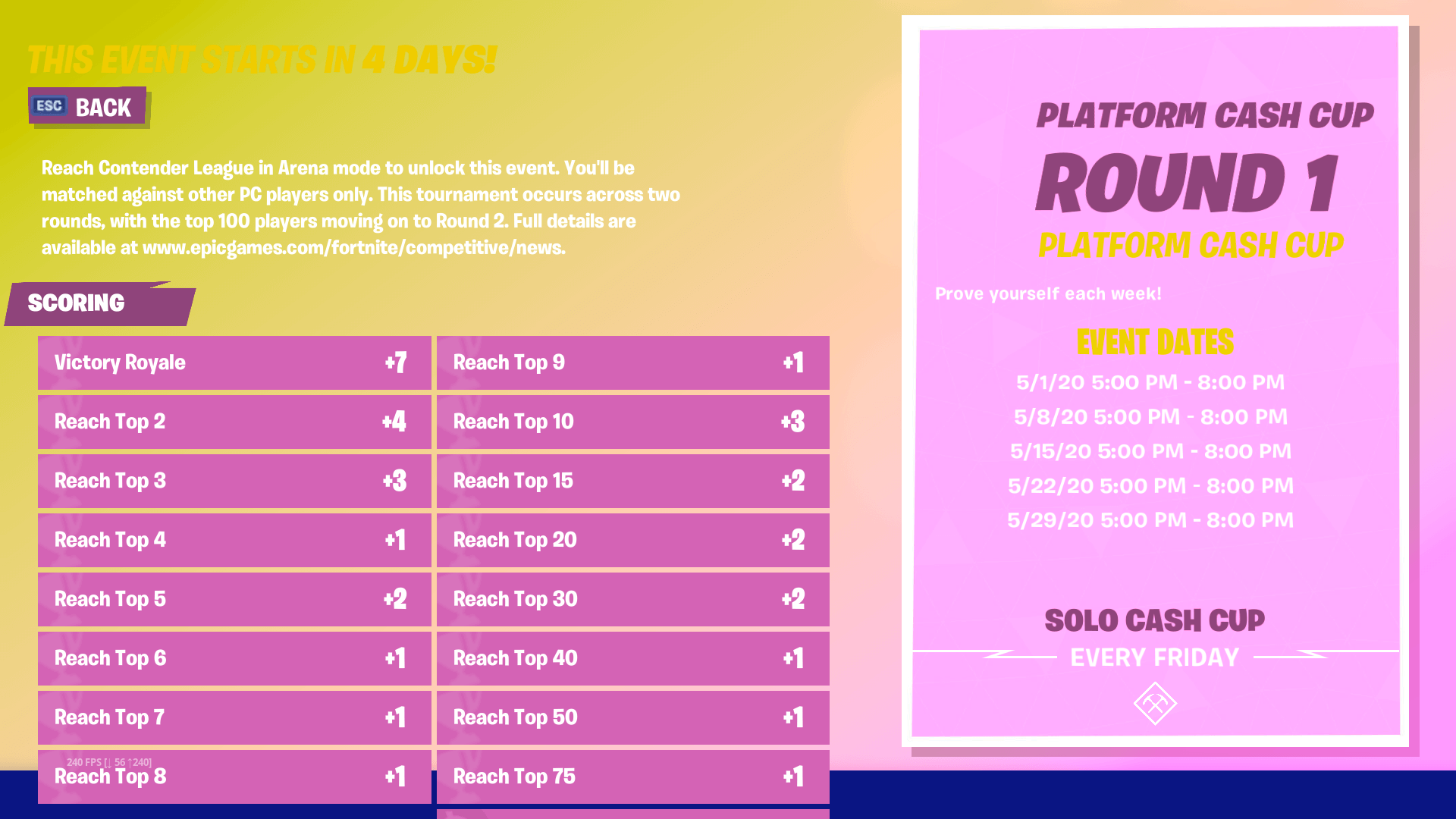 Here is the exact point structure for solo cash cups:
Top 50 – 1pt

Top 40 – 1pt

Top 30 – 2pt

Top 20 – 2pt

Top 15 – 2pt

Top 10 – 3pt

Top 9 – 1pt

Top 8 – 1pt

Top 7 – 1pt

Top 6 – 1pt

Top 5 – 2pt

Top 4 – 1pt

Top 3 – 3pt

Top 2 – 4pt

Victory Royale – 7pt

Each elimination – 4pt
Better prize pool
Another concern that many players expressed over the past few months was lack of incentive. With tens of thousands of competitors, a prize pool worth a few thousand simply doesn't cause the same "wow" factor as the shiny million dollar tournaments we're accustomed to
Prizes have received a notable buff, here's the NA-East breakdown for solo cash cups:
Top 1 – $ 2900

Top 2 – $ 1800

Top 3 – $ 1200

Top 4 – $ 1000

Top 5 – $ 900

Top 6 – $ 800

Top 7 – $ 700

Top 8 – $ 600

Top 9 – $ 500

Top 10 – $ 400
Make sure to check the compete tab in Fortnite's client to find out your region's exact prize structure!
With the release of new titles such as Valorant and Warzone, it is imperative that Epic be on their best behavior to retain their core audience. I'm glad to see some healthy competition push the scene in the right direction
Follow us on Twitter!